Illustrated Guide to Currencies Worldwide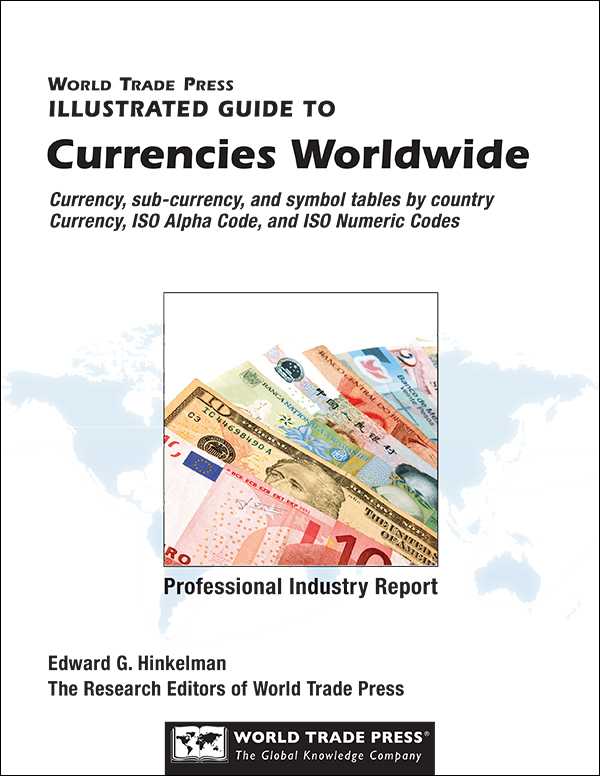 Professional Industry Report
Pages: 12
Publication Date: 1996 (Updated 2000-2004-2008)
Author: Edward G. Hinkelman & The Research Editors of World Trade Press
Size: 8.5″ x 11″ (21.59 x 27.94cm)
---
Currencies and Sub-Currencies of the World
The buying and selling of world currencies, as well as the price quotation of international contracts in multiple currencies has grown exponentially during the past decade. Basic knowledge of currencies of the world is now considered vital to international traders.
Illustrated Guide to Currencies Worldwide
The World Trade Press 'Guide to Currencies and Sub-Currencies of the World' lists the currencies, sub-currencies, ISO 4217 Codes (Alpha and Numeric), and currency symbols for 192 countries of the world.
Contents
This report lists currencies in four comprehensive tables by:
Country
Currency
ISO Alpha Code
ISO Numeric Code
Contact us at +1 (800) 833-8586 x1 to arrange for a unique, effective premium that will set your company's sales & marketing effort apart.
---
Co-Branded Pricing

(Price is per unit and includes basic customization)

Made in the USA

Product
50
100
250
500
750
1,000
Guide to Currenices Worldwide
$10.50 / unit
$8.50 / unit
$7.25 / unit
$6.75 / unit
$6.00 / unit
$5.00 / unit
---
This Product is Available in Bulk Quantities
Contact us at +1 (800) 833-8586 x1 for more information and a quote.