Illustrated Guide to International Sourcing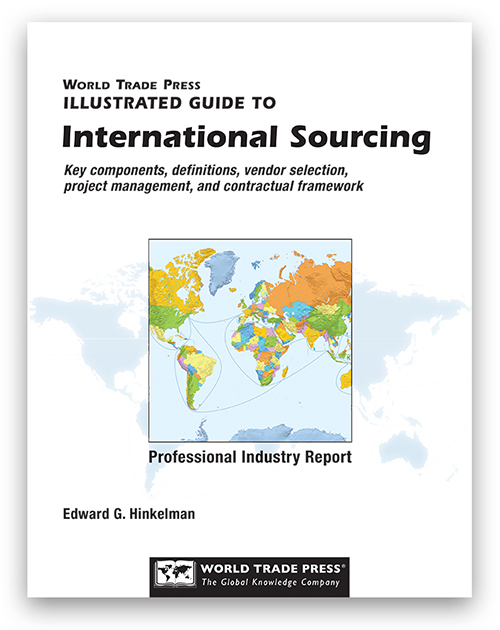 Professional Industry Report
Pages: 28
Publication Date: 2007 (Updated 2020)
Author: Edward G. Hinkelman
Size: 8.5″ x 11″ (21.59 x 27.94cm)
---
International Sourcing
Sourcing is the contracting of the management and/or execution of a business function to an outside third-party contractor or subcontractor. Outsourcing typically refers to the contracting of services to an offshore, rather than domestic, company. While outsourcing has been an accepted business practice for hundreds of years, it has recently become a key component in the success of many domestic and international firms. In the modern world, businesses will define what they do best, organize the whole and outsource the rest.
Guide to International Sourcing
The World Trade Press 'Guide to International Sourcing' provides a comprehensive primer on how outsourcing works, gives definitions and examples of typical forms of outsourcing, and establishes distinctions between the different types. It includes a provocative essay on the future of outsourcing, challenges and issues, country issues, vendor selection, data security, intellectual property rights, project management, pricing models, billing models, payment options, negotiating relationships, contractual framework (with contract checklist), profiles of five outsourcing powerhouses, and information sources for outsourcing.
Contents
Key Components
The Future of Offshoring and Offshore Outsourcing
Comprehensive Glossary
Challenges and Issues
Getting it Right
Country Issues
Vendor Selection
Data Security
Intellectual Property Rights
Project Management
Pricing Models for Service Outsourcing
Billing Models for Service Outsourcing
Payment Options for Service Outsourcing
Negotiating and Maintaining Relationships
Contractual Framework
Outsourcing Powerhouses
Information Sources for Outsourcing
Contact us at +1 (800) 833-8586 x1 to arrange for a unique, effective premium that will set your company's sales & marketing effort apart.
---
Co-Branded Pricing

(Price is per unit and includes basic customization)

Made in the USA

Product
50
100
250
500
750
1,000
Guide to International Sourcing
$19.50 / unit
$17.00 / unit
$14.00 / unit
$11.50 / unit
$10.50 / unit
$9.50 / unit
This Product is Available in Bulk Quantities
Contact us at +1 (800) 833-8586 x1 for more information and a quote.