Dictionary of International Trade, 13th Edition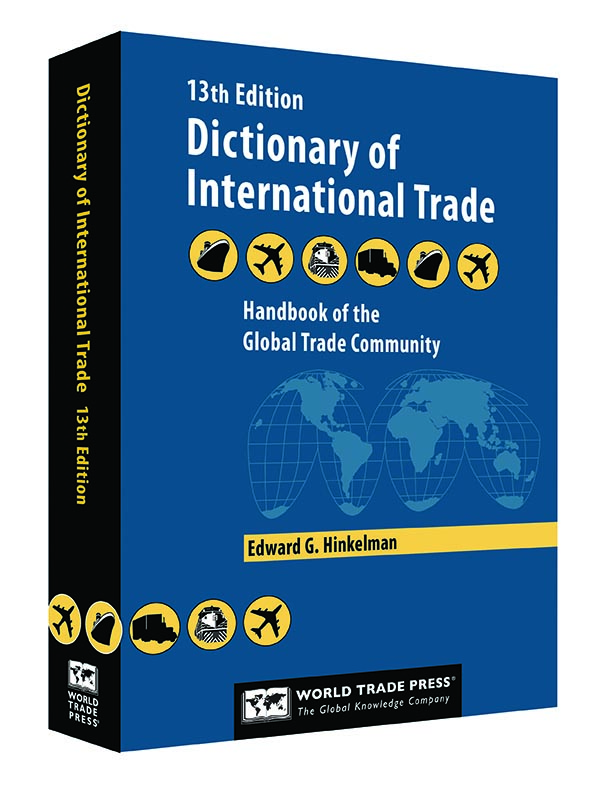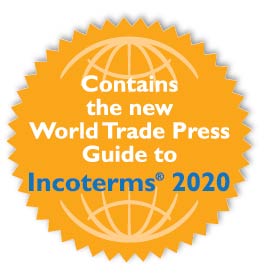 Handbook of the Global Trade Community
Edition: 13th
Pages: 840
Author: Edward G. Hinkelman
Size: 7″ x 10″ (17.78 x 25.4cm)
---
Click For:
---
The Industry Standard
Every business has its own language, lexicon, and lingo, and international trade is no exception. Consider: ad valorem, C-TPAT, most-favored nation, FAST, antidumping, NAFTA, countertrade, FOB, ocean bill of lading, 10+2 Rule, letter of credit, FTZ, IMF, and chaebol. International trade is a business in which "I think I know" isn't good enough. What you don't know can really hurt you.
The World Trade Press Dictionary of International Trade is the most respected and largest-selling trade reference in the world. It is used by importers, exporters, bankers, shippers, logistics professionals, attorneys, economists, and government officials in more than 100 countries.
Promote Your Company
This is an ideal promotional product for logistics firms, shipping lines, airlines, international banks, trade promotion agencies, and any business that serves the international trade community.
Trade Terms A-Z
Acronyms & Abbreviations
Country Codes (ISO 3166)
International Dialing Guide
Currencies of the World
Business Entities Worldwide
Weights & Measures
WTP Illustrated Guide to Incoterms® 2020*
Guide to Letters of Credit
Guide to Cargo Insurance
Computer Terms
Resources for International Trade
Guide to Trade Documents
Cargo Vessels
Cranes
Packing Symbols
Guide to Ocean Freight Containers
Seaports of the World
Cargo Aircraft Specifications
Guide to Air Freight Containers
World Airports and IATA Codes
Guide to Truck Trailers
Guide to Railcars
Legal Issues
Contracts
International Standards Organizations
ISO Standards
International E-Commerce
Guide to International Sourcing
Key Words in 8 Languages
US DOT Hazardous Materials Warning Placards
UN GHS Packing Labels and Transport Placards
World Political / Physical / Time Zone Maps
Regional Maps of the World
Global Supply Chain Security

Security and the Supply Chain
Ship and Port Facility Security
Maritime Transportation Security Act (MTSA)
EU Maritime Security Legislation
ISO 28000
Container Security Initiative (CSI)
Customs-Trade Partnership Against Terrorism
Free and Secure Trade (FAST)
US FDA Food Facility Registration
Automated Commercial Environment (ACE)
Pre-Arrival Processing System (PAPS)
Pre-Arrival Review System (PARS)
Automated Manifest System
Advance Manifest Regulations
Importer Security Filing (10+2 Rule)
Data Security / Industrial Espionage
Glossary of Security Terms
We can customize this product to reflect your organization's name, logo, colors, contact information, and anything else you wish.
Contact us at +1 (800) 833-8586 x1 to arrange for a unique, effective premium that will set your company's sales & marketing effort apart.
---
Co-Branded Pricing

(Price is per unit and includes basic customization)

Made in the USA

Quantity purchased at one time
Stock "off the shelf" books (generic cover)
Co-Branded soft cover
Co-Branded hard cover
Add 5th color on cover
1
$85.00 / unit (Retail)
—
—
—
25+
$60.00 / unit
$68.00 / unit
—
—
50+
$52.50 / unit
$58.00 / unit
$130.00 / unit
—
100+
$44.00 / unit
$47.00 / unit
$80.00 / unit
—
250+
$31.00 / unit
$34.00 / unit
$50.00 / unit
add $450.00
500+
$25.00 / unit
$26.00 / unit
$35.00 / unit
add $450.00
1,000+
$18.50 / unit
$19.00 / unit
$24.00 / unit
add $500.00
2,500+
$16.50 / unit
$17.00 / unit
$23.00 / unit
add $550.00
5,000+
$14.00 / unit
$14.00 / unit
$21.00 / unit
add $700.00
10,000+
$12.00 / unit
$12.00 / unit
$20.00 / unit
add $900.00
This Product is Available in Bulk Quantities
Contact us at +1 (800) 833-8586 x1 for more information and a quote.