International Dialing Guide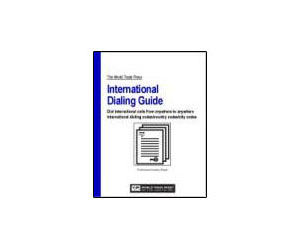 Professional Industry Report
Pages: 20
Publication Date: 1996 (Updated 2000-2004-2007-2020)
Author: World Trade Press Staff
Size: 8.5″ x 11″ (21.59 x 27.94cm)
---
International Dialing
International telephone calls have become a common and necessary part of conducting an international enterprise. Understanding international call systems and making international calls, however, proves to be an ongoing challenge.
International Dialing Guide
The World Trade Press 'International Dialing Guide' is a user manual to making calls from anywhere to anywhere in the world. It includes sections on how to dial international calls, points of confusion, the North American Numbering Plan, dialing examples, international access codes, country codes by numeric code, and a detailed 13-page table of country codes, and city/area codes for 192 countries and territories of the world. The table also has world time information (hours ahead or behind) for more than 300 world cities. There are more than 240,000 copies of this guide in print worldwide. (Seven updated editions and eight foreign language translations over 14 years.)
In addition to an introduction, and a schematic of truck trailer dimensions, 14 truck trailer types are profiled. For each truck trailer there is a detailed side-view illustration of the trailer, front and rear view illustrations, a usage statement, configurations, features and options, notes and standard dimensions.
Contact us at +1 (800) 833-8586 x1 to arrange for a unique, effective premium that will set your company's sales & marketing effort apart.
---
Co-Branded Pricing

(Price is per unit and includes basic customization)

Made in the USA

Product
50
100
250
500
750
1,000
International Dialing Guide
$13.50 / unit
$11.50 / unit
$9.50 / unit
$8.50 / unit
$7.50 / unit
$7.00 / unit
This Product is Available in Bulk Quantities
Contact us at +1 (800) 833-8586 x1 for more information and a quote.