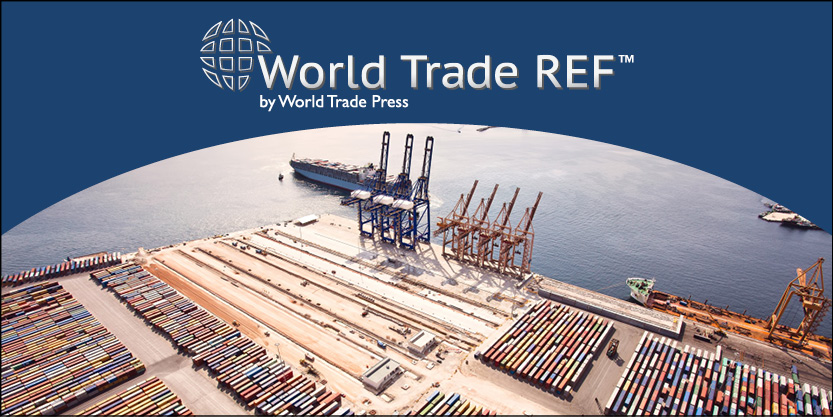 Contains 100 Country Business Guides and 76 Trade Resources. Each guide includes articles on business formation, business culture, import/export procedures, investment climate, seaports, money and banking, taxation and security. Trade resources include the complete Dictionary of International Trade, illustrated guides to Incoterms® 2020*, letters of credit, and shipping containers.
---
Features
Mobile friendly
Intuitive navigation
New content every month
Unlimited simultaneous users
Remote user access
Full maintenance and hosting
Usage statistics
Promotional materials
For Countries (120 modules)

Overview
Country Profile
Business Culture
Culture
Business Formation
Business Travel
Trade
Export
Import
News Feeds
Media Outlets
Sea Ports
Security Briefing
Maps
Language Translation
Communication
Money & Banking
Investment Climate

Trade Tools (77 modules)

Acronyms & Abbreviations
Basics of International Trade
Incoterms®
NAFTA
Dictionary of International Trade
Business Entities
Security
Sourcing Guide
Country Codes
International Payments
Exporting from the USA
Importing to the USA
Resources for International Trade
Trade Terms in 8 Languages
Insurance, Guide to Cargo
International Dialing Tools
Measurement Converter
Weights & Measures
Air Transport
Truck Trailers
Ocean Transport
Railcars
Benefits
Logistics professionals get detailed and up-to-date documentation, regulatory, and compliance information for the world's top 100 economies.
Individual traders get professional-level information usually available only to large-scale global trading companies.
Logistics providers get comprehensive industry- and profession-specific content that keeps users coming back to their site.
Trade promotion agencies and their member firms get detailed information to support trade missions and help develop business relationships worldwide.