C-TPAT and Supply Chain Security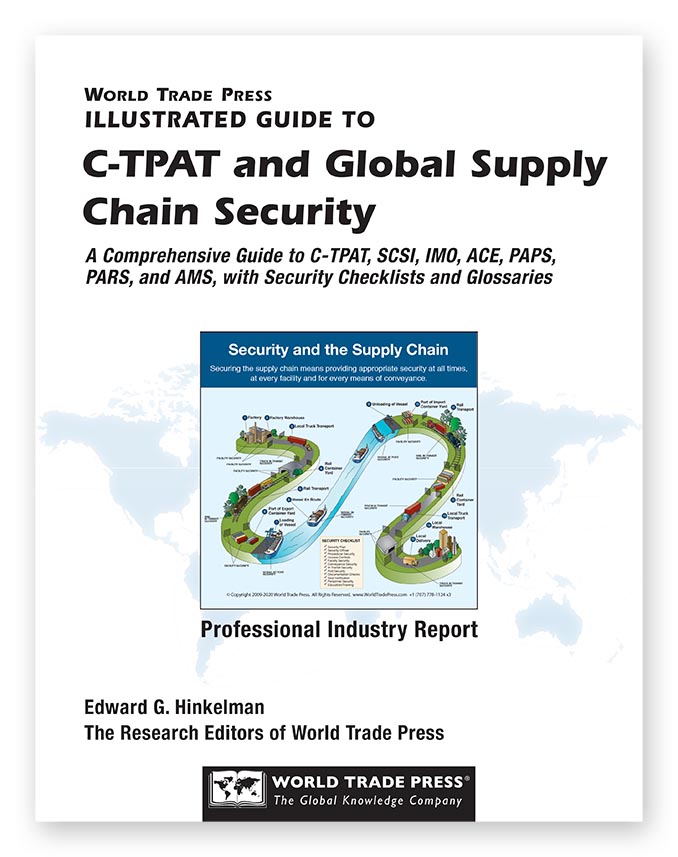 Professional Industry Report
Publication Date: January 2020
Pages: 92
Page Size: 8.5″ x 11″ (21.59cm x 27.94cm)
Co-Branded Bulk Print Version
---
Click For:
---
World Trade Press "C-TPAT and Supply Chain Security" is a detailed report covering all the major worldwide security initiatives but with an emphasis on the U.S. Customs and Border Protection C-TPAT (Customs Trade Partnership Against Terrorism) and CSI (Container Security Initiatives) programs.
This guide has become an industry standard professional publication, with more than 100,000 copies in print worldwide. It is used in three major applications:
Businesses and government agencies (including the U.S. CBP and many large logistics companies) use it for internal training;
Importers, foreign manufacturers and carriers use it as a guide for participation in C-TPAT and other security programs;
Students of international trade use it to learn about security initiatives worldwide.
Who Should Purchase This Report?
The World Trade Press "Guide to Global Supply Chain Security" is an essential resource for exporters, importers, shipping lines, airlines, rail and trucking lines, warehouse operators, consolidators, logistics professionals, freight forwarders, port and airport operators, and others involved in international trade.
International bankers, international attorneys, trade associations, chambers of commerce, and students of international trade will also find this report helpful.
Table of Contents
C-TPAT (Customs Trade Partnership Against Terrorism)
Contains complete information on eligibility, benefits, expectations, costs, best practices, the application process, application instructions, validation process, security criteria, and agreements to voluntarily participate.
FAST (Free and Secure Trade) U.S./Canada
FAST (Free and Secure Trade) U.S./Mexico
C-TPAT Seal Requirements
CSI (Container Security Initiative)
U.S. Bioterrorism Act
IMO (International Maritime Organization)
International Ship and Port Facility (ISPS) Code
Security Checklists
Glossary of Security Terms
ACE E-Manifest
PAPS and PARS
Automated Manifest System
Advance Manifest Regulations

"2-Hour Rule"
"24-Hour Rule"
The Research Editors at World Trade Press
This report is available in bulk quantities with a customized cover with your firm's logo, tagline, and company colors. We can also add specialized content to your specifications.
Contact us at +1 (800) 833-8586 x1 or logisticssales@worldtradepress.com to discuss how we can produce a cost-effective and unique product for your firm.
---
Co-Branded Pricing

(Price is per unit and includes basic customization)

Made in the USA

Product
50
100
250
500
750
1,000
C-TPAT and Supply Chain Security
$22.50 / unit
$20.00 / unit
$17.00 / unit
$14.50 / unit
$13.50 / unit
$12.50 / unit
This Product is Available in Bulk Quantities
Contact us at +1 (800) 833-8586 x1 for more information and a quote.