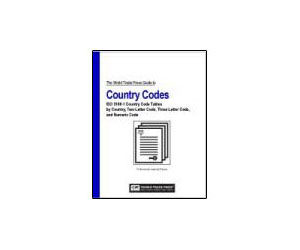 Professional Industry Report
Pages: 14
Publication Date: 1996 (Updated 2000-2004-2007)
Author: World Trade Press Staff
Size: 8.5″ x 11″ (21.59 x 27.94cm)
---
Country Codes
Country codes are used to identify countries in international communications, shipping, trade documentation, banking and other industries. Having the most up-to-date codes is essential, especially for those involved in transportation and banking where country codes are used in documentation.
Guide to Country Codes
The World Trade Press 'Guide to Country Codes' lists ISO (International Organization for Standardization) two-letter, three-letter and numeric codes for the 192 countries of the world. The guide consists of four tables that enable the user to research country codes and country name by:
Country
Two-Letter Code
Three-Letter Code
Numeric Code
Contact us at +1 (800) 833-8586 x1 to arrange for a unique, effective premium that will set your company's sales & marketing effort apart.
---
This Product is Available in Bulk Quantities
Contact us at +1 (800) 833-8586 x1 for more information and a quote.