Illustrated Guide to Truck Trailers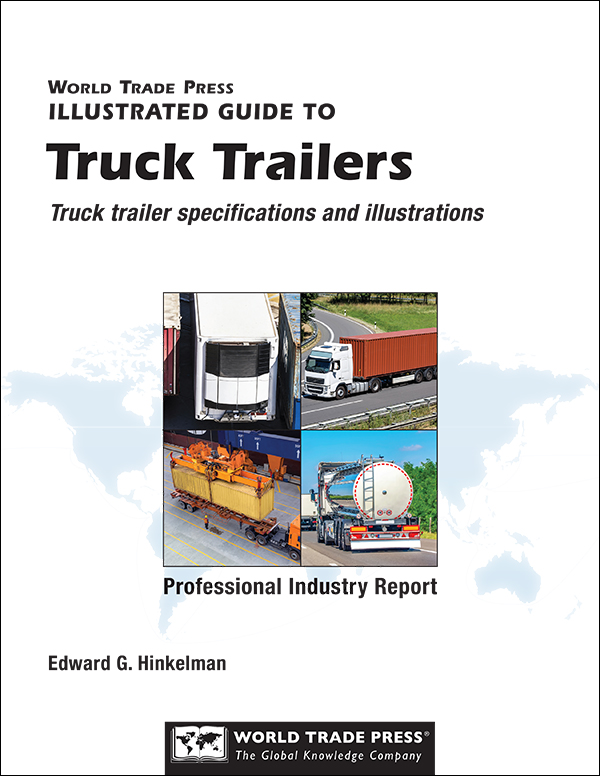 Professional Industry Report
Pages: 16
Publication Date: 2006 (Updated 2008)
Author: Edward G. Hinkelman
Size: 8.5″ x 11″ (21.59 x 27.94cm)
---
Truck Trailers
At some point or other, the vast majority of all freight, including cargo shipping by ocean and air, is transported by truck from its origin, or to its final destination. As such, trucks and truck trailers form an integral part of the supply chain.
Illustrated Guide to Truck Trailers
The World Trade Press 'Illustrated Guide to Truck Trailers' is an illustrated guide to the fourteen most common truck trailers used in domestic and international trade. This is the most comprehensive guide to truck trailers in the industry and, in several formats, has more than 60,000 copies in print.
In addition to an introduction, and a schematic of truck trailer dimensions, 14 truck trailer types are profiled. For each truck trailer there is a detailed side-view illustration of the trailer, front and rear view illustrations, a usage statement, configurations, features and options, notes and standard dimensions.
Contents
Freight (Van, Box) Trailer
Refrigerated Trailer (Reefer)
Container Skeletal Trailer
Platform (Flat Bed) Trailer
Tandem Platform Trailer
Platform Dropdeck/Gooseneck Trailer
Tandem Platform Dropdeck/Gooseneck Trailer
Tanker Trailer
Livestock Trailer
Dry Bulk Trailer (Hopper)
Tandem Dry Bulk Trailer (Hopper)
Deep Drop Furniture/Electronics Van
Auto Transport Tractor Trailer
Timber (Logger) Trailer
Contact us at +1 (800) 833-8586 x1 to arrange for a unique, effective premium that will set your company's sales & marketing effort apart.
---
Co-Branded Pricing

(Price is per unit and includes basic customization)

Made in the USA

Product
50
100
250
500
750
1,000
Guide to Truck Trailers
$12.50 / unit
$10.50 / unit
$8.50 / unit
$7.50 / unit
$6.50 / unit
$6.00 / unit
---
This Product is Available in Bulk Quantities
Contact us at +1 (800) 833-8586 x1 for more information and a quote.