International Dialing Guide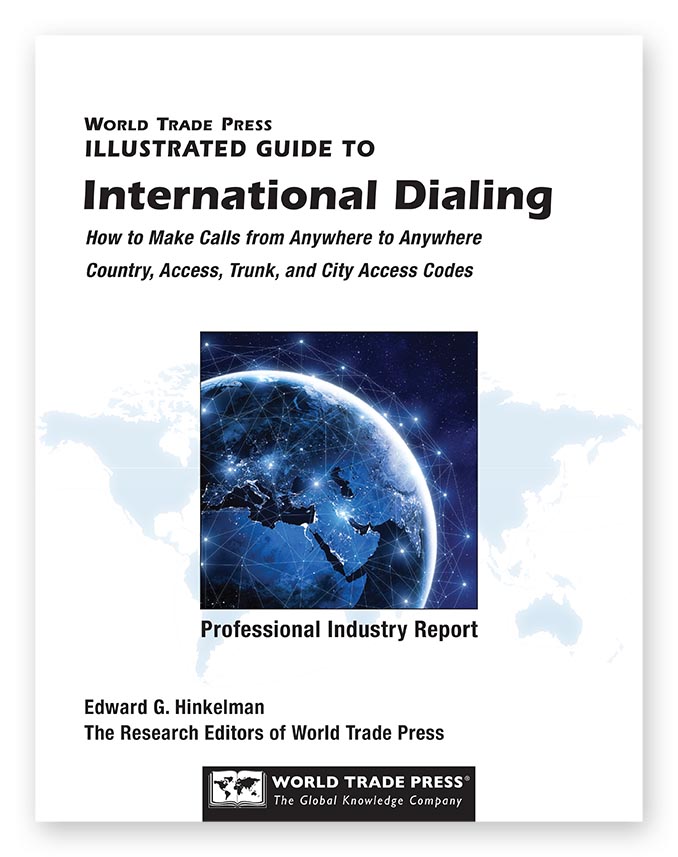 Professional Industry Report
Publication Date: January 2020
Pages: 20
Page Size: 8.5″ x 11″ (21.59cm x 27.94cm)
Co-Branded Bulk Print Version
---
Click For:
---
The World Trade Press "International Dialing Guide" is a user manual to making calls from anywhere to anywhere in the world. It includes a section on how to dial international calls, as well as sections on points of confusion, the North American Numbering Plan, dialing examples, international access codes, and country codes by numeric code. It also includes a detailed 13-page table of country codes and city/area codes for 200 countries and territories of the world. The table also has world time information (hours ahead or behind) for more than 300 world cities. There are more than 240,000 copies of this guide in print worldwide, with seven updated editions and eight foreign language translations over 18 years.
Who Should Purchase This Report?
The World Trade Press "International Dialing Guide" is an essential resource for exporters, importers, bankers, logistics professionals, chambers of commerce, trade associations, trade fair operators, international banks, international marketing professions, and others who make and receive calls from other countries regularly.
The Research Editors at World Trade Press
This report is available in bulk quantities with a customized cover with your firm's logo, tagline, and company colors. We can also add specialized content to your specifications.
Contact us at +1 (800) 833-8586 x1 or logisticssales@worldtradepress.com to discuss how we can produce a cost-effective and unique product for your firm.
---
Co-Branded Pricing

(Price is per unit and includes basic customization)

Made in the USA

Product
50
100
250
500
750
1,000
International Dialing Guide
$13.50 / unit
$11.50 / unit
$9.50 / unit
$8.50 / unit
$7.50 / unit
$7.00 / unit
This Product is Available in Bulk Quantities
Contact us at +1 (800) 833-8586 x1 for more information and a quote.